Africa
Lerato had received Christ in the past,
but had serious doubts about her faith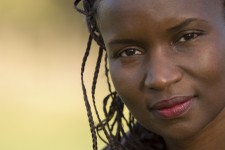 Things had gotten so bad that she was thinking about becoming an atheist. After finding a link to our Y-Jesus.com website online and reading our article entitled "Is Jesus God?" she wrote to us:
"I'm reading this article at a time when I was really starting to question my belief in Jesus, the God. A few hours ago I was researching Atheism as an alternative. As if by divine intervention, I came across this website. This has thrown out all my arguments against the Deity of this man."
God is moving in Africa!
According to author Philip Jenkins,¹ the number of Christians in Africa has grown from 10 million in 1900 to 360 million today. Thousands of Africans are coming to Christ each day—Africa truly has the potential to change our world.
But Satan is also busy in his attempt to derail what God is doing. Islam is also growing rapidly in Africa. Muslim terrorists from North Africa have killed and brutalized hundreds of Christians. Churches have been destroyed in the process, and many Christians have had to flee their villages for refuge.
But perhaps the greatest threat from Muslims is their attack on the Person of Jesus Christ and the truth of the gospels. Muslims aggressively proselytize Christians, telling them that Jesus was simply a prophet who didn't die for our sins or rise from the dead. Many weak believers have fallen prey to these more sinister attacks. Some, like Lerato begin to doubt there is a God at all.
Shining light in the darkness.
JesusOnline advertises on various African websites with questions about Jesus. Each day hundreds of Africans respond to these ads and visit Y-Jesus.com where they learn the truth about Jesus Christ. They learn there is compelling evidence for His existence, His crucifixion, His resurrection, and His deity.
They also learn that Jesus died for them personally, and that they can have a relationship with Him.
975,000 Africans reached in the last year!
More than 975,000 Africans have visited JesusOnline websites in the past year. Many who visit the site are non-Christians wanting to know more about Jesus. Christians also visit the site to grow stronger in their faith.
¹Philip Jenkins, The Next Christendom: The Coming of Global Christianity (Oxford: Oxford University Press).
Africa|Asia|Europe|Middle East|North America|South America