We are truly in awe of what God did in 2018!
Following are just a few of the highlights from the past year:
8,668,832 people from 241 countries and territories visited one or more of JOM's websites where they learned about Jesus.
81,536 people indicated a decision for Christ — almost twice as many as in 2017. That's more people than attended the last Super Bowl at Mercedes-Benz Stadium in Atlanta!
JOM's Polish translation website launched, enabling thousands of Polish-speaking people to read about Jesus' resurrection during Easter season.
Download our 2018 Annual Report now.
Read life-changing testimonies and find out more.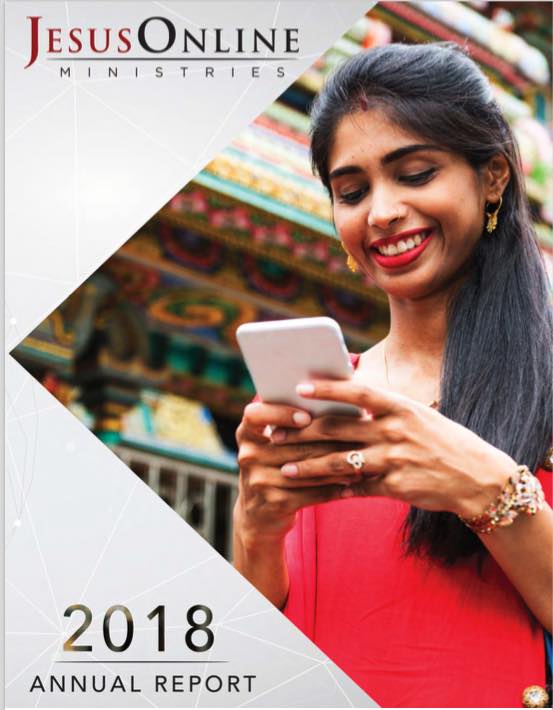 Click to Download 2018 JesusOnline Annual Report
Although we are extremely grateful for what God has done, we are asking Him for even greater things in 2019.
Production has begun on a 21-minute YouTube video called, "Did Jesus Rise From the Dead?" Over 5 billion YouTube videos are watched each day! To date, 14 million have watched JOM's YouTube video, "Has Science Discovered God."
In order to help people grow in Christ, we are developing a Discipleship App that will give our website visitors access to a treasure trove of spiritual growth resources and discipleship tools for their continuing journey with God. They will have all of our apologetic articles, Bible studies, devotions, gospel presentations plus online Bibles and many other spiritual growth resources — all available at their fingertips.
Never before has it been possible to proclaim the gospel of Jesus Christ to so many people at such a low cost, currently just 5 cents a person. Our prayer is to help even more people discover the truth about who Jesus really is and how they can know him personally.
What an exciting opportunity we've been given to reach our world for Christ! We invite you to partner with us in this exciting adventure!