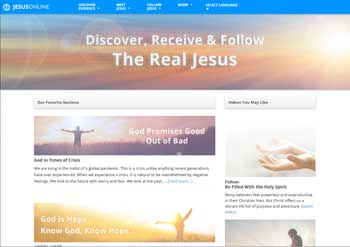 This is a video-based, website that helps people progress spiritually in their journey with God. No matter what stage a person is at with Jesus, this is a community where people can explore and grow together.
Discover Evidence: Some visitors are discovering who the historical Jesus really is.
Meet Jesus: Others are ready to receive the forgiveness and love Jesus offers.
Follow Jesus: Many have now become followers and are enjoying the adventure of living with Jesus.
In addition, there are two sections of the website specifically devoted to timeless human needs.
GODisHOPE: God wants to replace depression and despair with peace, confidence and joy.
Forever Loved: God wants everyone to experience his unconditional, unstoppable and unfathomable love.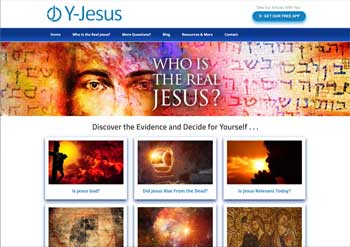 This website provides persuasive evidence about the identity and resurrection of Jesus Christ so people will begin a relationship with him and have their faith strengthened.
Here are a few of the many Y-Jesus topics:
The Y-Jesus articles have been translated into 19 different languages to more effectively reach varying cultures and demographics.
The URL addresses to the following language sites will be provided upon request: